San Francisco native, Diane Vitalich, is the original drummer and singer in the legendary Ace of Cups, all-female San Francisco psychodelic rock band. In the late 60's, The Ace opened for Jimi Hendrix, The Band, Jefferson Airplane and many more. More recently, The Ace of Cups has performed with Jason Mraz at the Fillmore SF, and was a featured act on The Today Show in 2019. Ms. Vitalich was featured at the 40th anniversary of The Haight Street Fair performing as Lady Ace, and to her surprise, she was handed a certificate of honor by Mayor London Breed on behalf of the city of San Francisco in appreciation for the Ace of Cups' role as an all-female band that inspired countless musicians to pursue their dreams. She is also one of the founding members of The Fairfax Street Choir, directed by Marla Hunt Hansen (an original member of the AOC ) opening for Crosby Stills & Nash at the historic landmark, California Hall in San Francisco, the Whole Earth Festival, and countless venues. As a drummer, Diane performed for drummer and producer, Narada Michael Walden for the NMW Foundation.
Recently, Diane (Lady Ace) has recorded on all three AOC albums: ACE OF CUPS, SING YOUR DREAMS, and EXTENDED PLAY. She sings lead on "Grandma's Hands" (Bill Withers) and co-wrote her song "Little White Lies," produced by Dan Shea.
Diane comments, while proud as ever of being a part of the AOC legacy, "I'm over the moon to be partners in crime with (Ace) Dallis Craft and our new band LADIES of ACE & The KNIGHTS of CUPS."
Dallis Craft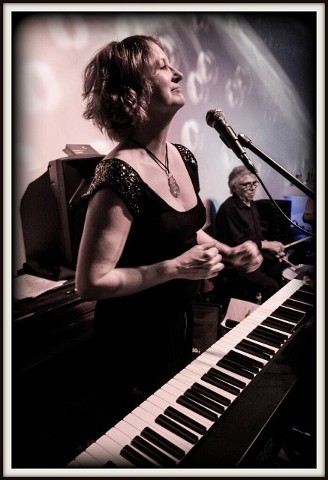 Dallis Craft has earned a reputation as a talented and versatile entertainer. As a keyboard/ rhythm guitar player and vocalist, she has performed and toured with K.T. Oslin, David Frizzell, Mandy Barnett, and actor, Bruce Willis as a featured vocalist in his band, The Accelerators. Besides lending her lead and backing vocals to the Ace of Cups' last two recordings, Sing Your Dreams and Extended Play, she can be heard on recordings of Pee Wee Ellis, Huey Lewis and the News, John Lee Sanders, Jimmy Dillon, Melvin Seals, Jesse Colin Young, Greg Kihn, and her own CD Leap of Faith. National television commercials include Red Lobster, AT&T, and Rice-a-Roni.
When not performing solo or with Diane Vitalich in Ladies of Ace, Dallis can be heard on keys and vocals with Americana band, The New Copasetics, or paying tribute to Carole King and James Taylor in the band, King James.